Words of Hope
Return to Blog
From Slavery to Service (Jamal Yearwood)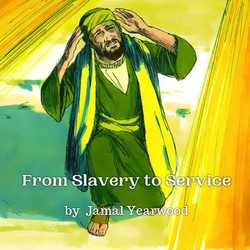 From slavery to service; from Saul to Paul. Saul knew the scriptures but Paul was a living testimony of the word of God. Saul was blinded by self-motivated interpretations of how the law should be followed, so he ordered beatings and imprisonment of those who disobeyed; while Paul whose eyes were unscaled by grace was beat and imprisoned by the law. Saul preached of the traditions of the people - Paul preached of the love of God. Saul was merciless and filled with rage but Paul was humble and filled with compassion. Saul wore the chains and shackles of sin perceived by self-righteous motives - Paul was freed by the light of Christ Jesus.
The two were one yet knew not each other, the two were one yet lived two different lives. Like an unequally yoked marriage, they wore one body but walked in separate directions. Saul was the devil's tool, a slave to sin - Paul a disciple of Christ, a man freed from his bondage now called to serve!!! As Paul became a new creature in Christ, Saul passed away. We too can emerge from slavery to service; if only we allow the scales to be lifted from our eyes.  
Galatians 2:20 (KJV) - I am crucified with Christ: nevertheless I live; yet not I, but Christ liveth in me: and the life which I now live in the flesh I live by the faith of the Son of God, who loved me, and gave himself for me.