Words of Hope
Return to Blog
The Struggle is Real (Meladee and Team)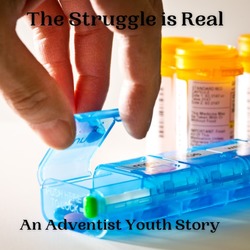 Elder George White, First Elder at Four Ways Seventh-day Adventist Church, Barbados, is alone. Just five years ago, he lost his wife to breast cancer. He has no children. His two brothers have both migrated to the United States and now they have their own families. In the midst of all of this, his father has dementia and has attempted suicide on three occasions.
Elder White is now his father's sole caretaker. He must purchase his medications, without any help from his brothers, who have now also found themselves in financial strain. Compounding all the issues Elder White faces, he still works hard to ensure that he remains committed to his duties at Four Ways. He still tries to manage keeping a watchful eye on his father and being a steadfast leader at his church.
Lately, though, it has been weighing on him and quite frankly, he is struggling with feeling lost, alone, and unsure of what to do. He has even considered taking his own life, but he knows he would leave his father alone, with no one to help him, and the congregation would be left alone; confused. Elder White is not sure where to turn to. He just feels alone.
Encouragement
Give all your worries and cares to God, for he cares about you. 1 Peter 5:7 NLT
Casting all your care upon him; for he careth for you. 1 Peter 5:7 KJV
I must tell Jesus all of my trials,
I cannot bear these burden alone,
In my distress He kindly will help me,
He ever loves and cares for His own.
Refrain
I must tell Jesus! I must tell Jesus!
I cannot bear my burdens alone;
I must tell Jesus! I must tell Jesus!
Jesus can help me, Jesus alone.
SDAH #485 - I Must Tell Jesus
An AY* Story written Sabbath, September 4, 2021. 
*AY stands for Adventist Youth.  This story was produced during an AY church service with focused on the issue of loneliness and how persons can give encouragement to anyone who may be experiencing a similar situation. The story is fictional but the problems are real.