An opportunity for open hearts and searching believers.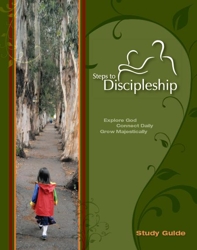 Steps to Discipleship is a seven week program designed to help you open your life to the presence and transforming power of God.


Are you eager to experience a deepening relationship with God?
Will you commit 30-40 minutes a day for seven weeks?
Daily devotion, relational Bible reading, scripture memorization, and a growing prayer life are all important elements of a disciple's life.
Are you hungry for more in your Christian experience?
As you journey with God and experience His impact in your life, you will recognize you aren't alone on the journey.
You will seek me and find me when you seek me with all your heart. —Jeremiah 29:13 N
IV